In the recent body of work Ethereal Evolution, Han started to collaborate with intelligentsias. She juxtaposing ideas about scale, causality, and the tradition of drawing with light and shadow. She wanted to focus on sociology impact with art-making in which she would explore her migration experience and emotion.

Following alone the avant-garde tradition, this is a series of cyanotype evolves live performance in the process of making. Improvisational dancers perform on the pre-coated Pi Paper and exposing their body movement to light. Allowing the action of light to create silhouettes, ethereal blurry white shadows appear on the blue paper.

The visual piece allowed performance to become a prolonged art form and that performer could have more content added into the visual result. The audience could see the making process as an art form itself. Compares to a live performance which is gone when it finishes, the collaboration reaches a level of eternity for both performance and visual art.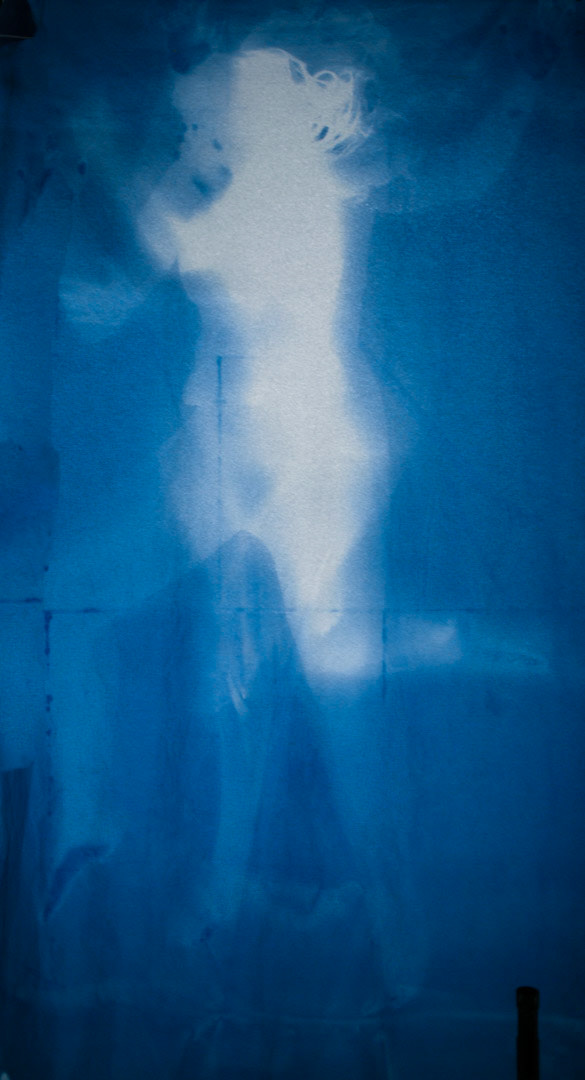 Han Qin
Ethereal Evolution, 2019
Cyanotype on Pi paper, performance, music
240 cm x 120 cm | 96 x 48 inch